6 Individual Packs
495+ Seeds!
Value $19.98
Sale Price
$16.95
15% off!
Planting Info Inside
100% Organically Grown
More info below
Perennial Collection 1st Year produces flowers)
These perennial plants have the remarkable ability to flower their first year. This feature makes them suitable for zone 2 and up, as they can be treated as an annual in colder zones. Locate the microclimates on your property for best results. In colder zones you may start these indoors early, and when the warm breath of Spring has shown itself, you can pop them into the ground.They will appreciate the head start.In more temperate climates,this 1st Year Perennial Collection will add a great range of color,scent & height to your garden space that will return year after year.Contents are seperately packaged with instruction. This allows for ease of use, decision on placement and easy storage. The attractive packing makes these great gift ideas for the gardener in your life. Attracts bees and butterflies. Zone 2 and Up.



Foxglove - Pink
(Digitalis purpurea)

Cupids Dart
(Catananche coerulea)

Dahlia Mix
(Dahlia variabilis)

Delphinium
(Delphinium)

Snow in Summer
(Cerastium tomentosum)

Wallflower
(Erysimum cheiri )






Cannot ship to the USA
We designed these packs to make it easier to plan a garden. Plan your garden in a few clicks by acquiring one or several of these unique Variety Packs. Smart choice for first time or seasoned gardener.You will Save Money, the space you are planting will look fabulous with the specailly selected varieites in each pack. All varieities in the Variety Pack Collections are individually packaged, giving you full control of the amount of each herb, vegetable, tomato or flower you wish to grow. There is enough seed in every pack to guarantee an amazing result, or even share with a friend!
The individual packages of seeds (complete with instruction ) comes with an attractive white envelope, with the name and photo of each variety printed on the front. Makes a great gift for that special gardener in your life!
If you choose to store unused seed, please provide a cool dry & dark place for next year. The fridge is a great place to store seed. Keeping the seeds cold, keeps them dormant so they can save all their energy for the following season
Canadian orders only for Variety Packs due to International regulations.
Sample Envelope Only - The seeds in the your chosen variety are displayed in the images :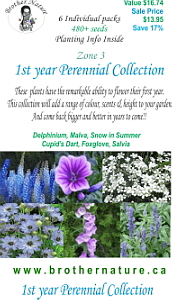 LOOK at our other Collections: