Type:
Perennial
Seed #:
178
Common Name:
Goliath Helinium
Latin Name:
Telekia
Variety:
Goliath
Colour:
Yellow
Temperature:
15C - 20C (59F - 68F) (Zone 3)
Zone:
3
Blooms:
June to August
Site:
Full Sun or Part Shade
Height:
180cm - 220cm (71" - 87")
Spread:
10cm - 20cm (4" - 8")
Seeds per pack:
0
Price:
$0.00

Attracts
Butterflies
Deer
Resistant
Drought
Tolerant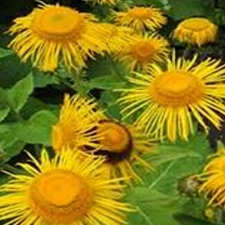 Notes: Large bright yellow flowers on a giant plant with velvety pointed leaves. Traditionally use as a anti bacterial agent. Drought Tolerant and great for the back of a border garden and makes a great addition to any bouquet.


Instructions: Sow 2 mm deep. Germination is 14 to 42 days.