Type:
Annual
Seed #:
208
Common Name:
Clarkia
Latin Name:
clarkia amoena
Variety:
Shade of Salmon
Colour:
Salmon Orange
Temperature:
15C - 21C (59F - 70F) (Zone 7)
Blooms:
July to September
Site:
Full Sun or Part Shade
Height:
35cm - 45cm (14" - 18")
Spread:
30cm - 40cm (12" - 16")
Seeds per pack:
0
Price:
$0.00

Attracts
Butterflies
Great
Cutflower
Scented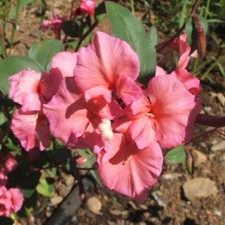 Notes: Produces masses of salmon to pink flowers on long slender stems. Excellent cut flower lasting up to a week in water. Tolerates some shade but performs best in full sun. Clarkia prefers slighty acidic, moist soil for optimum blooms.


Instructions: Cover lightly. Germination is 5 to 21 days.