Type:
Perennial
Seed #:
246
Common Name:
Hollyhock
Latin Name:
Alcea rosea
Variety:
Heirloom
Colour:
Mix
Temperature:
18C - 22C (64F - 72F) (Zone 2)
Zone:
2
Blooms:
June to August
Site:
Full Sun
Height:
150cm - 250cm (59" - 98")
Spread:
25cm - 30cm (10" - 12")
Seeds per pack:
50
Price:
$0.00

Attracts
Butterflies
Great
Cutflower
Deer
Resistant
Drought
Tolerant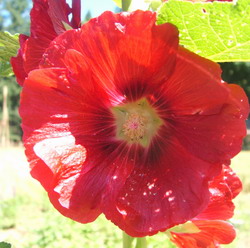 Notes: Large red flowers on tall spires up to 8ft tall. Blooming in late June on making them great for the back of borders & beds. Appreciates wind protection.Excellent cut flower. Very drought tolerant and does well in poor soils.


Instructions: Sow 2 mm deep. Germination is 10 to 21 days.