Type:
Annual
Seed #:
294
Common Name:
Sweet Peas
Latin Name:
Lathurus odoratus
Variety:
Royal Family
Colour:
Red, Pink, Purple,White,Salmon,Blue
Temperature:
15C - 17C (59F - 63F) (Zone 2)
Blooms:
July to September
Site:
Full Sun or Part Shade
Height:
120cm - 180cm (47" - 71")
Spread:
3cm - 5cm (1" - 2")
Seeds per pack:
0
Price:
$0.00

Attracts
Butterflies
Great
Cutflower
Scented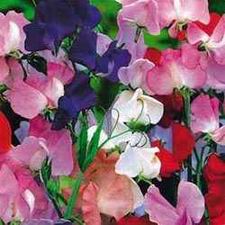 Notes: This highly sought after mix produces many long stemmed,large, sweetly scented blooms in near pure white, pink, red & purple colors on tall plants. Perfect choice for cutting. Sweet Peas can be planted early in Springs and enjoy having cool moist roots and sun for it's leaves and flowers. Cutting flowers will encourage blooms. Provide trellis support for best result.


Instructions: Plant 2 cm deep at 5 cm apart in early Spring. Soak seeds over night for quicker germination if desired.