Type:
Perennial
Seed #:
30
Common Name:
Pyrethrum Daisy
Latin Name:
tanacetum coccineum
Variety:
Giant Mix
Colour:
Pink
Temperature:
18C - 22C (64F - 72F) (Zone 5)
Zone:
5
Blooms:
May to July
Site:
Full Sun
Height:
65cm - 75cm (26" - 30")
Spread:
30cm - 35cm (12" - 14")
Seeds per pack:
50
Price:
$4.00

Attracts
Butterflies
Great
Cutflower
Deer
Resistant
Drought
Tolerant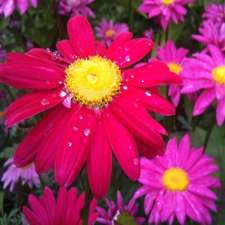 Notes: Striking daisy like flowers, on strong stems, from scented, feathery foliage in a range of pink and magenta shades. Early blooming perennial and long lasting cut flower that is deer resistant and drought tolerant. Although they are strong stemmed bloomers, a tomato cage placed over the 2nd year clump will aid in keeping the plant erect in windy conditions. Plants are used to make organic pesticides and so stay bug free.


Instructions: Sow 1 to 2 mm. Germination is 7 to 14 days.


History: Native to Caucasus.


Medicinal: Great companion plant as its oils are used in commercial insecticides.