Type:
Perennial
Seed #:
346
Common Name:
Marguerite Daisy
Latin Name:
Anthmis Sancti
Variety:
Johannis
Colour:
yellow
Temperature:
18C - 23C (64F - 73F) (Zone 4)
Zone:
4
Blooms:
July - September
Site:
Full Sun
Height:
45cm - 50cm (18" - 20")
Spread:
30cm - 35cm (12" - 14")
Seeds per pack:
0
Price:
$0.00

Attracts
Butterflies
Great
Cutflower
Drought
Tolerant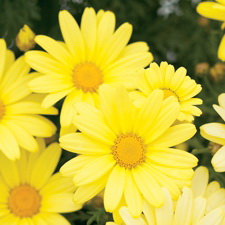 Notes: Easy to grow. This quick to grow plant has a ferny foliage. Plant produces masses of bright yellow orange daisy like flowers, that are long lasting in arrangements and bloom period. Grows well in even poor soils, is drought tolerant and adapts to part shade. Cut back annually to promote bushiness.Plant may self sow, which will increase your bloom time or yield. Attracts Bees, Birds and Butterflies. Also known as St Johns Chamomile.


Instructions: Direct sow and barely cover in Spring. 10 to 28 days germination.