Type:
Perennial
Seed #:
40
Common Name:
Lychnis Maltese Cross
Latin Name:
Lychnus chalcedonica
Variety:
Maltese Cross
Colour:
Red
Temperature:
18C - 22C (64F - 72F) (Zone 4)
Zone:
4
Blooms:
July to September
Site:
Full Sun
Height:
40cm - 60cm (16" - 24")
Spread:
25cm - 30cm (10" - 12")
Seeds per pack:
50
Price:
$4.00

Attracts
Butterflies
Great
Cutflower
Deer
Resistant
Drought
Tolerant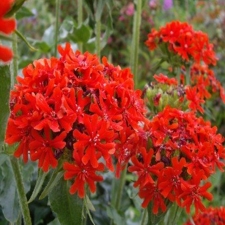 Notes: This outstanding beauty has bright green, lance shaped leaves offset by striking scarlet red flowers, borne on stiffly erect stems. Does well in sandy soils in full sun.


Instructions: Do not cover. Needs light to germinate. 21 to 28 days.


History: Native to Russia.