Type:
Annual
Seed #:
404
Common Name:
Velvet Queen Sunflower
Latin Name:
Helianthus annum
Variety:
Velvet Queen
Colour:
Red
Temperature:
18C - 28C (64F - 82F) (Zone 2)
Blooms:
July to September
Site:
Full Sun
Height:
100cm - 200cm (39" - 79")
Spread:
35cm - 50cm (14" - 20")
Seeds per pack:
25
Price:
$4.00

Attracts
Butterflies
Great
Cutflower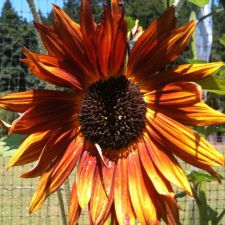 Notes: A beautiful addition to your garden. Birds will flock to the flowers when the seeds are ripe providing a natural bird feeder or collect the seed head for your self for next years planting. Very sturdy in poor soil but an avid producer in evenly moist soils.


Instructions: Sow 3 cm deep. Germination is 8 to 15 days.