Type:
Annual
Seed #:
498
Common Name:
Zinnia
Latin Name:
Variety:
Messicana
Colour:
Yellow
Temperature:
20C - 25C (68F - 77F) (Zone 3)
Blooms:
July to October
Site:
Full Sun/Part Shade
Height:
30cm - 40cm (12" - 16")
Spread:
30cm - 35cm (12" - 14")
Seeds per pack:
0
Price:
$0.00

Attracts
Butterflies
Great
Cutflower
Drought
Tolerant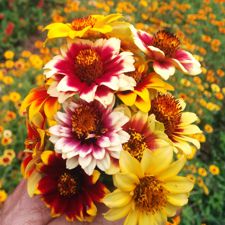 Notes: Elegance with colourful class. Zinnias slender stems and the bright green leaves boast 1 to 1.5-inch flowers, with jagged bands of intense colours of fiery yellows, oranges and reds and white. Creates a brilliant effect planted in rows or in masses in bed and borders. Excellent selection for fresh cut flowers until the last frost. You can't miss with this faithful producer. Easy to Grow.


Instructions: Sow 2 mm deep. Can be direct sown when temperatures outside allow or Germination 5 to 10 days.