Type:
Annual
Seed #:
58
Common Name:
Bachelor Button
Latin Name:
Centaurea cyanus
Variety:
Cornflower
Colour:
Blue,Pink,White,Purple
Temperature:
15C - 22C (59F - 72F) (Zone 5)
Blooms:
June to September
Site:
Full Sun or Part Shade
Height:
50cm - 75cm (20" - 30")
Spread:
30cm - 40cm (12" - 16")
Seeds per pack:
0
Price:
$0.00

Attracts
Butterflies
Great
Cutflower
Drought
Tolerant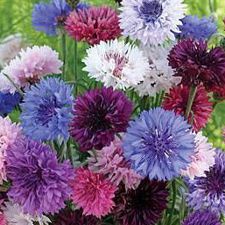 Notes: Bachelor buttons colorful drifted blossoms are great cut flowers. They are long lived and cold hardy and do well even in poor soil and dry areas. Great dried flower as the color remains strong. Just remember to cut them before they are fully open for optimal results.


Instructions: Direct sow and cover 1/4 in. Germination is 7 to 14 days.