Type:
Annual
Seed #:
62
Common Name:
Castor Bean Mix
Latin Name:
Ricinus communis
Variety:
Ornamental
Colour:
Red & Pink
Temperature:
20C - 25C (68F - 77F) (Zone 2)
Blooms:
June to September
Site:
Full Sun
Height:
100cm - 200cm (39" - 79")
Spread:
60cm - 90cm (24" - 35")
Seeds per pack:
0
Price:
$0.00

Great
Cutflower
Deer
Resistant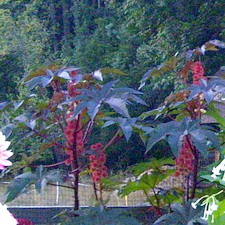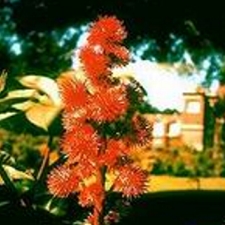 Notes: A striking addition to any garden. You do not need many to make a statement. Large showy plants. Castor Bean grows best in moist soil and full sun. Once established it is drought tolerant. Castor Bean dark, glossy enormous maple like leaves with red veins, contrast spectacularly with colorful, spiky seed pods. All parts of this plant are poisonous. Do not eat. Despite its poisonous quality, it is highly sought after by the seasoned gardener.


Instructions: Presoak for 8 hrs. Sow 3 to 5 cm deep. 14 to 21 days.


Habitat: For optimal results, Castor Bean enjoys evenly moist, rich soil but has proven to be drought tolerant and resilient.


History: Ricinus communis is native to Africa, has been cultivated for centuries for the oil produced by the spectacular seed it produces. The Egyptians used castor oil to light their lamps 4,000 years ago.