Type:
Annual
Seed #:
73
Common Name:
Datura
Latin Name:
Datura inoxia
Variety:
Fleur De Lilac
Colour:
Purple
Temperature:
25C - 28C (77F - 82F) (Zone 3)
Blooms:
June to August
Site:
Full Sun or Part Shade
Height:
30cm - 40cm (12" - 16")
Spread:
30cm - 50cm (12" - 20")
Seeds per pack:
50
Price:
$4.00

Attracts
Butterflies
Deer
Resistant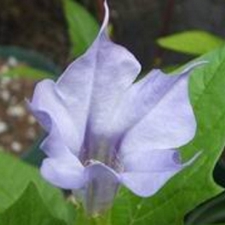 Notes: Vividly coloured, trumpet shaped flowers are followed by spiky ornamental seedpods, which are long lasting and suited for cut arrangements. Do not eat the seeds or any other part of this plant. May be poisonous. Not attractive to animals. Self sows.


Instructions: Sow 2 mm deep. Germination 30 days.