Type:
Annual
Seed #:
75
Common Name:
Evening Scented Stock
Latin Name:
Matthiola Bicornis
Variety:
Evening Scented
Colour:
Purple
Temperature:
18C - 22C (64F - 72F) (Zone 2)
Blooms:
June to September
Site:
Full Sun or Part Shade
Height:
4cm - 10cm (2" - 4")
Spread:
25cm - 30cm (10" - 12")
Seeds per pack:
100
Price:
$4.00

Attracts
Butterflies
Great
Cutflower
Scented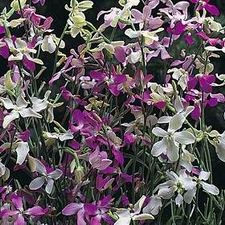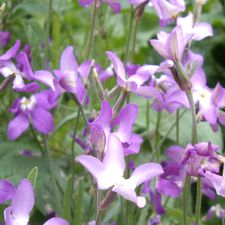 Notes: This plant enjoys Full Sun, attracts butterflies & is AMAZINGLY SWEET SCENTED! A small grouping of plants will fill your senses with an intoxicating sweet aroma in early evening. Easily grown in a variety of conditions, but does best in even moisture.These plants produce a profusion of lilac flowers. Once you have grown them once, you will never want to be without them again. For cut flowers, choose stems with flowers that have just opened. Delicately strip the foliage that will fall below the water level, and place in water immediately. Fabulously scented and delicate addition for baskets, beds and borders.


Instructions: Sow in early Spring Do not cover. Seeds need light to germinate. Germination 5 to 10 days.Water seedlings occasionally until they become established.


History: A member of the Matthiola genus native to Eurasia.