Type:
Annual
Seed #:
84
Common Name:
Cosmo Mix
Latin Name:
Cosmos bipinnatus
Variety:
Seashell Mix
Colour:
Red, Pink, White
Temperature:
20C - 25C (68F - 77F) (Zone 2)
Blooms:
June to September
Site:
Full Sun or Part Shade
Height:
60cm - 120cm (24" - 47")
Spread:
30cm - 45cm (12" - 18")
Seeds per pack:
50
Price:
$0.00

Attracts
Butterflies
Great
Cutflower
Drought
Tolerant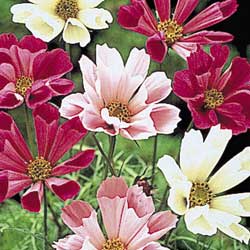 Notes: This fabulous flower is an easy to grow mix of pink and white with its petals curled into a tube. Prefers poor soil conditions and shelter from strong winds. Cosmos are great for cut flowers for their unique flowers and airy foliage.


Instructions: Lightly cover. Germination 5 to 10 days.