12 Individual Packs
1180+ Seeds!
Value $39.96
Sale Price
$33.95
15% off!
Planting Info Inside
100% Organically Grown
More info below
Chefs' Dream Culinary Herb Collection
Chefs' Dream Culinary Herb Collection boasts a dozen tasty varieties of plants, that will provide all the flavourings you need to become a gourmet chef! These plants have the added bonus of being drought tolerant and deer resistant. An easy way to grow a herb garden and a great way to show off your good gardening tastes. Great money saver! Besides making any dish taste fantastic, herbs in all their forms are very beneficial to your gardens. They mask scent from harmful insects as well as attracting pollinating, predatory insects & birds. Using a combination of these elements we offer this selection of easy to grow plants that will help restore a healthy, balanced, organic herb garden that will please your palette.



Agastache - Mint
(Agastache rugosa)

Basil - Lemon
(Ocimum basilicum)

Basil - Sweet
(Ocimum basilcum)

Chives
(Allium schoenoprasum)

Cilantro
(Coriandrum sativum)

Cilantro Lemon
(coriandrum )

Dill
(Anethum graveolens)

English Thyme
(Thymus vulgaris)

Greek Oregano
(Oreganum vulgare)

Parsley
(Petroselinum sativum)

Salad Burnet
(Sanguisorba poterium)

Savory - Winter
(Satureja officinalis)






Temporarily out of stock
We designed these packs to make it easier to plan a garden. Plan your garden in a few clicks by acquiring one or several of these unique Variety Packs. Smart choice for first time or seasoned gardener.You will Save Money, the space you are planting will look fabulous with the specailly selected varieites in each pack. All varieities in the Variety Pack Collections are individually packaged, giving you full control of the amount of each herb, vegetable, tomato or flower you wish to grow. There is enough seed in every pack to guarantee an amazing result, or even share with a friend!
The individual packages of seeds (complete with instruction ) comes with an attractive white envelope, with the name and photo of each variety printed on the front. Makes a great gift for that special gardener in your life!
If you choose to store unused seed, please provide a cool dry & dark place for next year. The fridge is a great place to store seed. Keeping the seeds cold, keeps them dormant so they can save all their energy for the following season
Canadian orders only for Variety Packs due to International regulations.
Sample Envelope Only - The seeds in the your chosen variety are displayed in the images :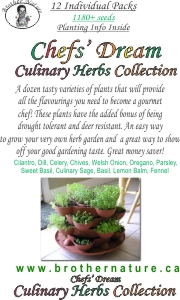 LOOK at our other Collections: