SOLD OUT OF VARIETY PACKS

Do NOT try to purchase the one below. It is there to keep the page diplayed only.

Single packs are still available.

SEPARATELY PACKAGED WITHIN FOR BETTER CONTROL OF PLANT LOCATION AND AMOUNT SOWN OF EACH. Seed storage instructions below.

Not sure what to grow? Beautiful Gardens in just a few clicks...

We designed these packs to make planning a garden space easy, by acquiring one or several of these unique Variety Packs. The smart choice for the first time or seasoned gardener alike. You will Save Money and the space you are planting will be the envy of your neighbours. All varieties in the Variety Pack Collections are individually packaged, giving you full control of the amount of each herb, vegetable, tomato or flower you wish to grow. There is enough seed in every pack to guarantee an amazing result, or even share with a friend!

The individual packages of seeds (complete with instruction ) comes with an attractive white envelope, with the name and photo of each variety printed on the front. Makes a great gift for that special gardener in your life!
From a super Easy Beginners Garden to the Chefs Dream Herb Collection and so many flowers in between.
If you choose to store unused seed, please provide a cool dry & dark place for next year. The fridge is a great place to store seed. Keeping the seeds cold, keeps them dormant so they can save all their energy for the following season.
Canadian orders only for Variety Packs due to International regulations.

Click an image to view details of each Variety Pack. There is something for everyone and every need imaginable.
Our latest unique addition is the Moon Garden.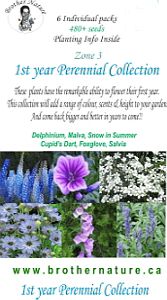 Perennial Collection 1st Year produces flowers)


SHIPPING ORDERS EVERY Tuesday and Friday
WE SHIP TO CANADIAN ADDRESSES ONLY
$2.50 SHIPPING ON ORDERS UP TO $10.00 $4.00 SHIPPING ON ORDERS UP TO $30.00 FREE SHIPPING ON ORDERS $30.00 & OVER
E transfers also accepted.250 661 2255 for details


Click here if you are looking for single packets of seed only USA included. The search on our homepage will assist you in finding your plant by latin or common name, or search by color. Our plant matching system will also show you other plants that have similar attributes as the seed you are searching for. Great tool for planning a garden. Check it out.