Type:
Perennial
Seed #:
1
Common Name:
Bee Balm
Latin Name:
Monarda didyma
Variety:
Croftway Pink
Colour:
Pink
Temperature:
15C - 20C (59F - 68F) (Zone 4 & up)
Zone:
4 & up
Blooms:
July to August
Site:
Full Sun or Part Shade
Height:
60cm - 70cm (24" - 28")
Spread:
30cm - 35cm (12" - 14")
Seeds per pack:
50
Price:
$4.00

Attracts
Butterflies
Great
Cutflower
Deer
Resistant
Drought
Tolerant
Scented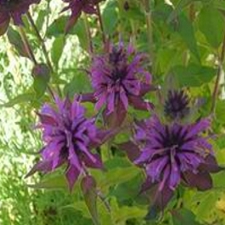 Notes: A slow spreading plant that has a great aroma. Sprinkle its leaves and flowers in fruit salads. Good plant for poor, well drained soil. It has a unique flowering habit, funky seed heads which makes it a gorgeous as a cut flower. Butterflies and hummingbirds love this plant and it is drought tolerant and deer resistant. Note that the bergamot herb is not the source of bergamot oil.


Instructions: Sow 1 mm deep. 14 to 21 days.


Habitat: Monarda didyma grows best in full sun, but tolerates light shade and will thrive in any moist soil that is well-drained.


History: Monarda didyma is native to eastern North America.Its name was chosen for its similar odor to that of the bergamot orange. The scientific name comes from Nicolas Monardes, who described it first in American flora in 1569.