Type:
Perennial
Seed #:
10
Common Name:
Four o clocks
Latin Name:
Mirabilis jalapa
Variety:
Marvel of Peru
Colour:
Pink & Yellow
Temperature:
18C - 22C (64F - 72F) (Zone 8 & up)
Zone:
8 & up
Blooms:
June to September
Site:
Full Sun or Part Shade
Height:
50cm - 100cm (20" - 39")
Spread:
30cm - 60cm (12" - 24")
Seeds per pack:
0
Price:
$0.00

Attracts
Butterflies
Scented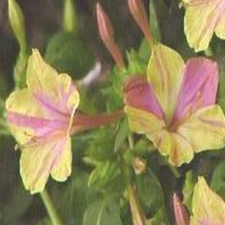 Notes: Marble coloured trumpet shaped flowers. Slightly sweet scented. Grows a tuber that may be stored as you would a dahlia or left in well drained ground in warmer climates. Flowers only open when the sun is shining


Instructions: Sow 2 to 3 mm deep. 7 to 14 days.