Type:
Annual
Seed #:
101
Common Name:
Salpiglossis
Latin Name:
Salpiglossis sinuata
Variety:
Species
Colour:
purple and red mix
Temperature:
20C - 25C (68F - 77F) (Zone 3)
Blooms:
June to September
Site:
Full Sun or Part Shade
Height:
40cm - 60cm (16" - 24")
Spread:
25cm - 30cm (10" - 12")
Quantity:
100 Seeds
Price:
$3.99

Attracts
Butterflies
Great
Cutflower
Scented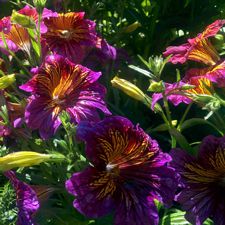 Notes: This Salpiglosis mix is a real eye-catcher. Intricate, prominent purple veins on yellow and red or yellow and purple petals. Great in planters on decks for a conversation piece and as a sure hummingbird magnet. Appreciates moist but well-drained soil for acclimatizing and for longer lasting blooms.


Instructions: Light cover. Germination 14 to 21 days. Transplant when large enough to handle. Pinch out the growing point when (6 in) tall, gradually acclimatize to outdoor conditions for 10 - 15 days. Plant out after all risk of frost.