Type:
Annual
Seed #:
103
Common Name:
Shoo Fly Plant
Latin Name:
Nicandra Physaloides
Variety:
Apple of Peru
Colour:
Blue
Temperature:
18C - 23C (64F - 73F) (Zone 2)
Blooms:
June to September
Site:
Full Sun
Height:
90cm - 100cm (35" - 39")
Spread:
30cm - 50cm (12" - 20")
Seeds per pack:
0
Price:
$0.00

Attracts
Butterflies
Drought
Tolerant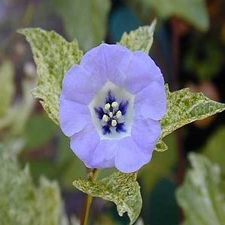 Notes: Beautiful blue to purple flowers on rapidly growing plants, Seed pods are used dried in arrangements. Though there is no detectable odour, flies are said to flee this plant. We believe because the pods when dry resemble a small hornets' nest. TRULY WORKS!


Instructions: Sow 2 mm deep. Germination is 14 to 20 days.