Type:
Annual
Seed #:
106
Common Name:
Strawflower
Latin Name:
Helichrysum bracteatum
Variety:
Jeweled Wonder Mix
Colour:
Orange, Red, Yellow & White
Temperature:
25C - 30C (77F - 86F) (Zone 2)
Blooms:
June to September
Site:
Full Sun
Height:
60cm - 90cm (24" - 35")
Spread:
25cm - 30cm (10" - 12")
Quantity:
100 Seeds
Price:
$3.99

Attracts
Butterflies
Great
Cutflower
Deer
Resistant
Drought
Tolerant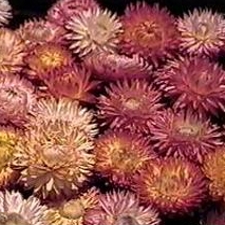 Notes: The picture shown is of the dried flower heads. The colour of dried flowers is much more vibrant. Very easy to grow bright, straw-like textured flowers on long sturdy stems, Colors range from red, orange, yellow and white. Truly amazing staying power as a cut or dried flower. Used extensively in decorating and crafts. To dry strawflower, cut flowers before its head is fully open and hang upside down in a cool dark airy room. Surface sow in early Spring as seed requires light to germinate.


Instructions: Surface Sow. Germination 10 to 20 days.