Type:
Perennial
Seed #:
109
Common Name:
Sweet William
Latin Name:
Dianthus barbatus
Variety:
Wee Willie Mix
Colour:
Red, Pink & White
Temperature:
16C - 22C (61F - 72F) (Zone 4)
Zone:
4
Blooms:
June to September
Site:
Full Sun or Part Shade
Height:
10cm - 15cm (4" - 6")
Spread:
15cm - 20cm (6" - 8")
Quantity:
100 Seeds
Price:
$3.99

Attracts
Butterflies
Great
Cutflower
Scented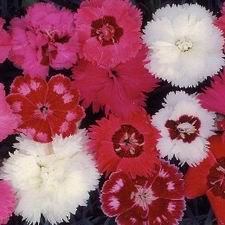 Notes: Very compact plants in red, pink and white in a variety of colour combinations that bring a cheery feel to any garden and bouquet.Scented!


Instructions: Sow outdoors in late April or early May for August blooms. Seed should be scattered or sown in rows, as thin as possible, and covered with 3 mm of soil. Germination 5 to 14 days. Thin Wee Willie to 4 10 cm apart. Worth every effort for the scent alone.


Habitat: Wee Willie likes well-drained sandy soil, and flourishes in cooler, semi-shaded areas.