Type:
Annual
Seed #:
114 ( Edit )
Common Name:
Sunflower - Autumn Beauty
Latin Name:
Helianthus annum
Variety:
Autumn Beauty
Colour:
Yellow & Red & Orange
Temperature:
18C - 28C (64F - 82F) (Zone 2)
Blooms:
June to September
Site:
Full Sun
Height:
100cm - 200cm (39" - 79")
Spread:
35cm - 50cm (14" - 20")
Quantity:
25 Seeds
Price:
$3.33

Attracts
Butterflies
Great
Cutflower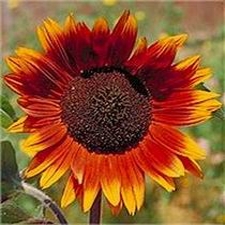 Notes: A beautiful addition to your garden. It's a mix of vibrant reds and yellow flowers are easy to grow. Produces a flower stem at every node making it perfect for plentiful cut flowers. Birds will flock to the flowers when the seeds are ripe, providing a natural bird feeder. Very sturdy in poor soil. Plant edible peas or sweet peas at the base of your sunflowers. The stalks and branches will serve as a place for the vines to cling to and create an attractive garden feature.


Instructions: Sow 3 cm deep. Germination is 8 to 15 days.