Type:
Herb
Seed #:
118
Common Name:
Agastache Mint (purple)
Latin Name:
Agastache foeniculum
Variety:
Purple Haze
Colour:
Purple
Temperature:
18C - 22C (64F - 72F) (Zone 3)
Blooms:
June to September
Site:
Full Sun or Part Shade
Height:
30cm - 70cm (12" - 28")
Spread:
25cm - 30cm (10" - 12")
Quantity:
125 Seeds
Price:
$3.99

Attracts
Butterflies
Great
Cutflower
Scented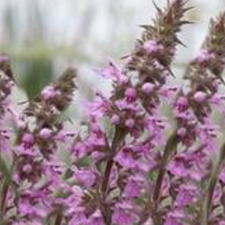 Notes: Agastache needs long days up to 14 hours to set bud. You will love the aroma, flavour and look of this favourite. The flavour starts mildly licorice and finishes minty. Outstanding as a garnish.


Instructions: Sow 2 mm deep. Sow indoors in March or direct seed when soil temperature stated allows. Germination time is 30 to 90 days.


Habitat: Mint does best in a sightly shaded, moist and sheltered position. It dislikes sandy soil and adding organic material to such conditions will greatly improve mint health and harvest.


History: It is believed that, in the 17th century, John Josselyn was prompted by the writings of the Roman Pliny to included mint in a list of plants to introduce to the New World.


Medicinal: Medicinal interests in Mint date back to the first century. The Romans naturalist Pliny documented that more than 40 ailments were treated by mints.