Type:
Herb
Seed #:
120
Common Name:
Catnip
Latin Name:
Nepeta Cataria
Variety:
Catnip
Colour:
White
Temperature:
15C - 20C (59F - 68F) (Zone 2)
Blooms:
July to September
Site:
Full Sun or Part Shade
Height:
30cm - 70cm (12" - 28")
Spread:
25cm - 30cm (10" - 12")
Quantity:
100 Seeds
Price:
$3.33

Attracts
Butterflies
Deer
Resistant
Drought
Tolerant
Scented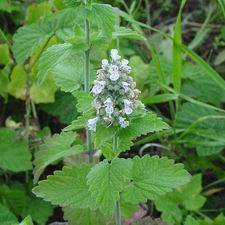 Notes: Easy to grow. Your cats will love this plant. Adds vitamins to your cats' diet and will help repel fleas. Greyish-green leaves with tiny white flowers with purple specks. Very aromatic. Very aromatic and deer resistant and drought tolerant.


Instructions: Direct sow after the last frost has lifted or sow 2 mm deep indoors to transplant after 1st set of true leaves appear. Lightly prune to encourage bushing effect. Germination is 7 to 14 days. IF you have cats in your area be sure to protect the plant to allow it to become established.


Habitat: Catnip grows well in any garden soil. Grown as an annual in colder climates.


History: Nepeta cataria is believed to have originated in Asia and Europe as it grows there in abundance. Romans called for catnip in their recipes.


Medicinal: The flowering tops are used in medicine and are harvested when the plant is in full bloom in August. Catmint has been noted to be better for repelling mosquitoes than products containing Deet. It also has been used for repelling cockroaches and some types of flies. Traditionally Catnip has been used in the treatment of the flu, fevers, stomach ailments, insomnia & flatulence.