Type:
Herb
Seed #:
121 ( Edit )
Common Name:
Dill
Latin Name:
Anethum graveolens
Variety:
Old style Bouquet
Colour:
Herb
Temperature:
10C - 15C (50F - 59F) (Zone 3)
Blooms:
July to September
Site:
Full Sun or Part Shade
Height:
65cm - 75cm (26" - 30")
Spread:
25cm - 30cm (10" - 12")
Quantity:
100 Seeds
Price:
$3.33

Attracts
Butterflies
Deer
Resistant
Scented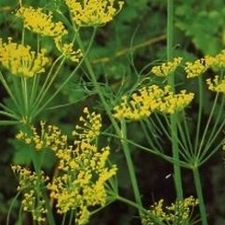 Notes: Quick growing plant with an abundance of flower heads and an intense dill flavour. Successful cultivation of dill requires hot summers; full sun and rich, well-drained soil. Use is soups sauces, pickling and spicing up a favourite dip. Do not plant near fennel if saving seed or cross-pollination may occur. Butterflies love Dill. Deer resistant.


Instructions: Sow 2 mm deep. Direct sow when earth can be worked.


History: It is native to the eastern Mediterranean region and western Asia. The word dill comes from the old Norse word dylla, meaning to soothe or lull. Widely used in the Middle Ages to defend against witchcraft and spells. More recently, people have used dill seeds and the parts of the plant that grow above the ground as medicine.


Medicinal: Modern knowledge credits dill seed as a breath freshener and anti-bacterial agent. stomach ailment relief and is also believed to stimulate milk production in breastfeeding women.