Type:
Herb
Seed #:
125
Common Name:
Bronze Leaf Fennel
Latin Name:
Foeniculum vulgare
Variety:
Bronze Leaf
Colour:
Herb
Temperature:
15C - 21C (59F - 70F) (Zone 3)
Blooms:
July to September
Site:
Full Sun or Part Shade
Height:
125cm - 150cm (49" - 59")
Spread:
35cm - 60cm (14" - 24")
Quantity:
75 Seeds
Price:
$3.99

Attracts
Butterflies
Drought
Tolerant
Scented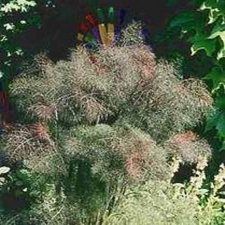 Notes: Striking bronze tinged foliage with a sweet black licorice flavour. Produces lots of tiny licorice-flavoured seeds as well as ferny foliage for flower bouquet greenery. An outstanding perennial that you and your children will love! The best attractor of Hover Flies, a pest predator.


Instructions: Sow 2 mm deep. Germinates in 7 to 14 days.


History: Dating back to Pliny (AD 23-79), who was the Roman author of The Naturalis Historie. He believed that serpents ate and rubbed against the fennel because it was able to improve their eyesight while helping them shed their skins.


Medicinal: Fennel is a rich source of B vitamins, dietary fibre, calcium, iron, magnesium and manganese.