Type:
Herb
Seed #:
129
Common Name:
Parsley
Latin Name:
Petroselinum sativum
Variety:
Moss Curled
Colour:
Herb
Temperature:
10C - 15C (50F - 59F) (Zone 2)
Blooms:
July to September
Site:
Full Shade or Part Shade
Height:
25cm - 40cm (10" - 16")
Spread:
25cm - 30cm (10" - 12")
Quantity:
100 Seeds
Price:
$3.33

Attracts
Butterflies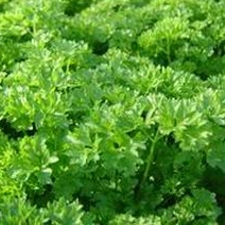 Notes: Parsley flavour complements any dish without ever dominating the taste. This variety features deep green, ruffled foliage and has a vigorous growth habit. It is a biennial or tender perennial that when planted with roses enhances their fragrance. Also used extensively as a garnish and for its superior breath freshening qualities.


Instructions: Direct seed when earth can be worked. Easy to grow. Appreciates cool roots so mulching with a light straw is beneficial and may prevent early bolting. Easy to grow once established. Gently prune to encourage it to bush out.


Habitat: Well-drained nutrient-rich soil and protection from extreme afternoon sun are encouraged.