Type:
Perennial
Seed #:
133
Common Name:
Lychnus
Latin Name:
Lychnus coronaria
Variety:
Alba
Colour:
White
Temperature:
18C - 22C (64F - 72F) (Zone 4)
Zone:
4
Blooms:
July to September
Site:
Full Sun
Height:
45cm - 60cm (18" - 24")
Spread:
30cm - 60cm (12" - 24")
Quantity:
55 Seeds
Price:
$3.99

Attracts
Butterflies
Great
Cutflower
Drought
Tolerant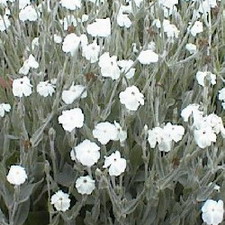 Notes: This perennial forms dense clumps of silver-green foliage and multi-branched, gray green stems, and produces pure white blooms for much of the summer. They are very drought tolerant, and are known to be deer resistant.


Instructions: Do not cover. Needs light to germinate. 21 to 28 days.