Type:
Perennial
Seed #:
14
Common Name:
Red Hot Poker
Latin Name:
Kniphophia
Variety:
Torch Lily
Colour:
Red & Yellow
Temperature:
20C - 25C (68F - 77F) (Zone 7)
Zone:
7
Blooms:
June to August
Site:
Full Sun or Part Shade
Height:
80cm - 90cm (31" - 35")
Spread:
70cm - 100cm (28" - 39")
Quantity:
35 Seeds
Price:
$3.99

Attracts
Butterflies
Great
Cutflower
Deer
Resistant
Drought
Tolerant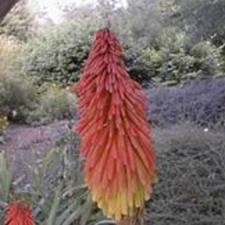 Notes: Easy to grow! This evergreen perennial produces brilliant orange and yellow tubular flowers on slender spikes. They will tolerate wind and coastal conditions and thrives in a well-drained, full sun, open location. For fuller more vibrant flowers, keep watered in hot summer months. Superb showy cut flower for large arrangements. Hummingbirds love this plant and will visit it frequently.


Instructions: Sow 2 to 3 mm deep indoors 6 weeks before the last frost or sow in late Fall. Germination is 7 to 21 days. Drought tolerant once established.