Type:
Vegetable
Seed #:
140
Common Name:
Rainbow Swiss Chard
Latin Name:
Beta vulgaris
Variety:
Heirloom
Colour:
red, yellow,white,orange
Temperature:
10C - 15C (50F - 59F) (Zone 2)
Blooms:
60 days
Site:
Full Sun or Part Shade
Height:
30cm - 50cm (12" - 20")
Spread:
25cm - 30cm (10" - 12")
Quantity:
65 Seeds
Price:
$3.99

Attracts
Butterflies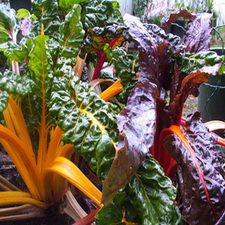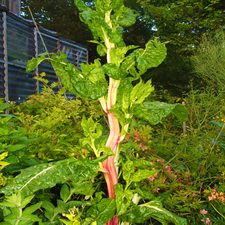 Notes: We sell out of this very quickly every year. Its attractive Orange, Pink, Red & Yellow and white veined stems are a salad and garnish lover's best friend. An outstanding edible and ornamental cold-hardy plant that adds colour to salads, garnishes and cooked vegetable dishes. All parts of this plant are edible and high in vitamin content and fibre. Tasty fresh or cooked, pick the outer leaves and allow this biennial to continue growing. The second image is of Swiss Chard in its second year. A stunning focal point even if you're not a fan of eating it. The seed heads are even more interesting and a great natural bird feeder if you're not planning on saving the seeds.


Instructions: Direct sow in Spring at 2 to 3 cm deep. Or sow directly in the garden two weeks before your last frost date.