| | |
| --- | --- |
| Type: | Vegetable |
| Seed #: | 144 |
| Common Name: | Radish - Alta Globe |
| Latin Name: | Raphanus sativus |
| Variety: | Heritage |
| Colour: | Red |
| Temperature: | 10C - 20C (50F - 68F) (Zone 2) |
| Blooms: | 25 days |
| Site: | Full Sun or Part Shade |
| Height: | 10cm - 15cm (4" - 6") |
| Spread: | 4cm - 6cm (2" - 2") |
| Quantity: | 100 Seeds |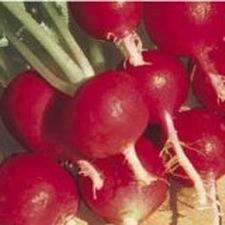 Notes: Bright red round with medium to tall tops. Makes a great center row. This heritage radish can be planted to discourage cucumber beetle, squash bug, and stink bug. Radish seed and its greens are also a delicious addition to your salads. Let a few in your patch bloom and then go to seed. You can eat the pods while green and they still have that same great radish taste or you can let the seeds ripen up and add them to your salad as a tasty garnish.


Instructions: Direct seed with light cover as soon as the earth can be worked at 5 to 10mm deep. Radishes like cooler weather conditions so it is advisable to provide some shade in hotter months to prevent bolting.


Habitat: Cool, nutrient-rich soil that remains moist, not wet, will ensure less bolting. Hill up around the bases once bulb starts to form to Protect radish from hot afternoon sun and encourage a larger root bulb. Best grown is early Spring and Fall plantings.


History: It is believed that radishes made there first appearance in China around 500 BC. The ancient Chinese selectively bred them until they acquired ones with a milder taste and a longer root, which is also how the Daikon Radish was developed.


Medicinal: Radishes and their greens are a great source of vitamin C, folic acid and potassium. They are known for their antiseptic, anti-arthritic and anti-cancer qualities. Radishes are great for prevention of a sore throat, fever reduction and assisting with conditions such as bronchitis or asthma. Radishes also increase the production of bile, assisting in maintaining a healthy liver and gallbladder.