Type:
Perennial
Seed #:
15
Common Name:
Sweet Rocket
Latin Name:
Hesperis matronalis
Variety:
Species
Colour:
Purple
Temperature:
18C - 22C (64F - 72F) (Zone 3)
Zone:
3
Blooms:
May to June
Site:
Full Sun or Part Shade
Height:
70cm - 80cm (28" - 31")
Spread:
30cm - 35cm (12" - 14")
Quantity:
100 Seeds
Price:
$3.99

Attracts
Butterflies
Drought
Tolerant
Scented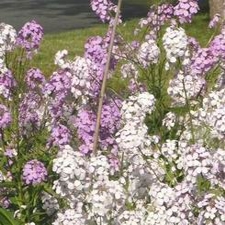 Notes: A long-lived, easy to grow, early-blooming perennial. Sweet Rocket has been long loved for its intensely sweet-scented lilac purple or white blooms on single spikes. Perfect for adding scent to cut bouquets and attracting bees and other pollinators to the garden. Ideal for the back of beds and borders. These plants are very hardy and adaptable. Self-sows.


Instructions: Surface sow. Germination is 10 to 25 days.