Type:
Herb
Seed #:
166
Common Name:
Lovage
Latin Name:
Levisticum officinale
Variety:
Heirloom
Colour:
Herb
Temperature:
15C - 21C (59F - 70F) (Zone 3)
Blooms:
100 days
Site:
Full Shade or Part Shade
Height:
140cm - 150cm (55" - 59")
Spread:
60cm - 65cm (24" - 26")
Quantity:
100 Seeds
Price:
$3.99

Attracts
Butterflies
Deer
Resistant
Drought
Tolerant
Scented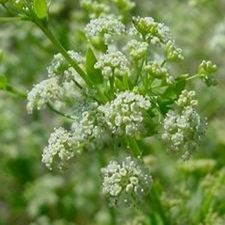 Notes: Lovage is a culinary herb and vegetable that has the scent and flavour of celery with hints of fennel and curry. Flowers attract predatory wasps. Deer Resistant.


Instructions: Sow seeds 2 cm deep. Germination 7 to 14 days.


History: Lovage being cultivated as an edible plant, goes back thousands of years for making teas for the medicinal qualities.


Medicinal: Lovage tea has a diuretic effect and relieves gas.