Type:
Vegetable
Seed #:
169 ( Edit )
Common Name:
Beans - Broad
Latin Name:
Vicia Faba
Variety:
Heirloom
Colour:
green
Temperature:
10C - 15C (50F - 59F) (Zone 3)
Blooms:
60 to 90 days
Site:
Full Sun or Part Shade
Height:
80cm - 100cm (31" - 39")
Spread:
5cm - 10cm (2" - 4")
Quantity:
15 Seeds
Price:
$4.00

Attracts
Butterflies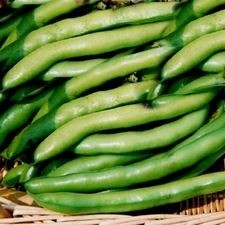 Notes: Use in soups and hot dishes or roast like pumpkin seeds. Grow in cool well-drained moist conditions. Harvest when beans appear swollen. Also known as the Fava Bean. These plants do not need staking and have attractive flowers.


Instructions: Sow 5 cm deep in well worked earth in May and April.


History: Broad beans are believed to have originated in the Mediterranean. Archaeological digs at Iron and Bronze Age settlements, in different parts of Europe, show that they have been an important food staple for thousands of years.


Medicinal: For millennia broad beans were a valuable source of protein, especially when meat was scarce. Broad beans contain copper, niacin, folate and vitamin C. As with all beans, fresh beans provide more of these nutrients than dried.