Type:
Perennial
Seed #:
17
Common Name:
Crocosmia
Latin Name:
crocosmia aure
Variety:
Lucifer
Colour:
Red
Temperature:
16C - 22C (61F - 72F) (Zone 5 & up)
Zone:
5 & up
Blooms:
July to August
Site:
Full Sun or Part Shade
Height:
55cm - 60cm (22" - 24")
Spread:
60cm - 80cm (24" - 31")
Seeds per pack:
50
Price:
$4.00

Attracts
Butterflies
Great
Cutflower
Deer
Resistant
Drought
Tolerant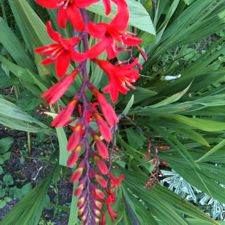 Notes: Striking red flowers on gracefully arched stems that rise above sword-shaped leaves. An absolute magnet for Hummingbirds. Crocosmia is a drought tolerant, deer resistant, corm forming plant for beds, borders and under roof eaves. Great addition to any cut-flower garden.


Instructions: Direct Sow. 3 mm deep. Germination is 7 to 20 days. Sow indoors 6 weeks before the last frost. Transplant when temperature below allows.


Habitat: Crocosmia will grow well in any location and provide ample stunning blooms. Mulching it with a rich compost and semi-regular water will double this plants size.