Type:
Vegetable
Seed #:
170 ( Edit )
Common Name:
Peas - Homesteader
Latin Name:
Pisum sativum
Variety:
Lincoln shelling peas
Colour:
Heirloom
Temperature:
10C - 20C (50F - 68F) (Zone 3)
Blooms:
65 to 75 days
Site:
Full Sun or Part Shade
Height:
80cm - 100cm (31" - 39")
Spread:
3cm - 5cm (1" - 2")
Quantity:
35 Seeds
Price:
$3.33

Attracts
Butterflies
Scented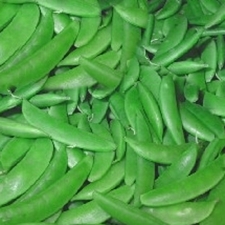 Notes: Introduced in 1908 this dwarf variety produces vines 18 to 30 inches high loaded with lots of easy to pick 2 to 3-inch pods, with 6 to 9 peas per pod. These are heat tolerant and wilt resistant. Peas are a valuable source of vitamin C, A and fibre. Harvest before peas fully enlarges for best results. For successive crops, plant at 2 to 3-week intervals until mid-spring.


Instructions: Direct sow 1 to 2 cm deep when earth can be worked, or start indoors and transplant in early Spring. Germinates in 7 to 10 days.


Habitat: Well-drained soil and mulch to assist in cooler roots and weed control. Important tip: When planting your peas avoid planting near garlic as it will inhibit the growth of vining legumes.