Type:
Perennial
Seed #:
172
Common Name:
Golden Rain Tree
Latin Name:
Laburnum anagyroides
Variety:
Species
Colour:
Yellow
Temperature:
15C - 21C (59F - 70F) (Zone 3)
Zone:
3
Blooms:
May to June
Site:
Full Sun or Part Shade
Height:
300cm - 700cm (118" - 276")
Spread:
10cm - 10cm (4" - 4")
Quantity:
20 Seeds
Price:
$3.99

Attracts
Butterflies
Great
Cutflower
Deer
Resistant
Drought
Tolerant
Scented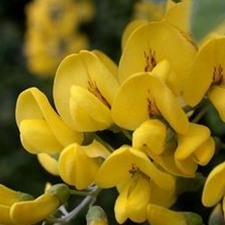 Notes: Golden Rain Tree is a small tree with dark green leaves and clusters of drooping, scented, brilliant yellow pea-like flowers. A great source of Spring colour and early cut flowers. Golden Rain Tree is wind tolerant and is known for its ability to fix nitrogen into the soil.


Instructions: Scarify or soak for 24hrs. 28 to 70 days. 1 to 2 mm deep.