Type:
Perennial
Seed #:
174
Common Name:
Angels Fishing Rod
Latin Name:
Dierama pulcherrimum
Variety:
Heirloom
Colour:
Pink
Temperature:
15C - 22C (59F - 72F) (Zone 5 and up)
Zone:
5 and up
Blooms:
May to June
Site:
Full Sun or Part Shade
Height:
36cm - 72cm (14" - 28")
Spread:
5cm - 100cm (2" - 39")
Quantity:
15 Seeds
Price:
$3.99

Attracts
Butterflies
Great
Cutflower
Deer
Resistant
Drought
Tolerant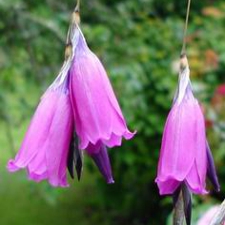 Notes: These are elegant clump producing beauties, with showy, spiked grey-green leaves along gracefully arched stems, produce asoft pink bell shaped flowers. Perfect for Pondside settings. These plant provides elegance to flower arrangements and landscapes alike.


Instructions: Start indoor in very early Spring or sow directly outside in April. Sow at a depth of at 3mm deep. Germination is usually about 14 to 35 days. Transplant to a rich, moist, warm sheltered but sunny location for best results. Once established they are marginally frost hardy and dislike being relocated. For those of you in cooler climates, plant in large pots that you can bring inside over the winter months. These charming elegant plants are worth every effort.


History: Corm producing Angels Fishing Rod (Dierama) are native to tropical Africa.