Type:
Perennial
Seed #:
176
Common Name:
Heliopsis
Latin Name:
Heliopsis helianthoides
Variety:
Summer Sun
Colour:
Yellow
Temperature:
18C - 28C (64F - 82F) (Zone 3)
Zone:
3
Blooms:
June to August
Site:
Full Sun
Height:
60cm - 120cm (24" - 47")
Spread:
20cm - 30cm (8" - 12")
Seeds per pack:
0
Price:
$0.00

Attracts
Butterflies
Great
Cutflower
Drought
Tolerant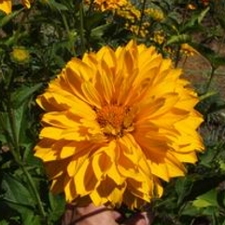 Notes: This compact, upright,clump-forming plant is great for repeat cutting. It has golden yellow flowers atop strong stems with hairy leaves making it drought tolerant. Moist fertile soil will encourage stronger flower production. Very long bloom period. Easy care plant.


Instructions: Plant directly outside. 1 to 2 mm deep. 14 to 28 days.