Type:
Perennial
Seed #:
180
Common Name:
Rose Queen Salvia
Latin Name:
Salvia superba
Variety:
Rose Queen
Colour:
Pink
Temperature:
18C - 22C (64F - 72F) (Zone 3)
Zone:
3
Blooms:
July to September
Site:
Full Sun or Part Shade
Height:
25cm - 30cm (10" - 12")
Spread:
10cm - 15cm (4" - 6")
Quantity:
45 Seeds
Price:
$3.99

Attracts
Butterflies
Great
Cutflower
Deer
Resistant
Drought
Tolerant
Scented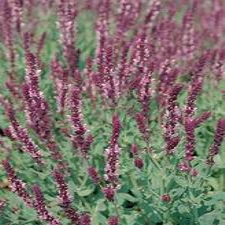 Notes: Compact plants that produce plentiful floral spikes packed with small bright, rosy pink flowers. Excellent for use in beds and borders as a foundation plant or in containers.


Instructions: Sow 1 to 2 mm deep.Germination is 10 to 15 days.