Type:
Annual
Seed #:
182
Common Name:
Sunflower
Latin Name:
Helianthus annuus
Variety:
Russian Mammoth
Colour:
Yellow
Temperature:
13C - 28C (55F - 82F) (Zone 4)
Blooms:
July to September
Site:
Full Sun
Height:
180cm - 300cm (71" - 118")
Spread:
30cm - 60cm (12" - 24")
Seeds per pack:
25
Price:
$4.00

Attracts
Butterflies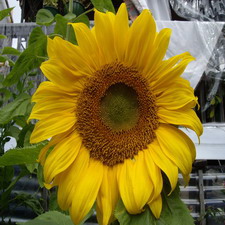 Notes: Astoundingly large seed heads characterize this variety. Truly mammoth flower heads that produce a wealth of seed. Use as a natural bird feeder or harvest the seeds yourself for roasting. Stake plants in windy locations as they are top heavy once in flower. Enjoys full sun and ample water for an abundant crop.


Instructions: Sow 3 cm deep. Germination is 8 to 15 days. Start indoors in April or direct sow outside when soil temperature allows.