Type:
Perennial
Seed #:
183
Common Name:
Poppy - Orange
Latin Name:
Papaver orientale
Variety:
oriental
Colour:
Orange
Temperature:
16C - 22C (61F - 72F) (Zone 3)
Zone:
3
Blooms:
May to June
Site:
Full Sun
Height:
20cm - 50cm (8" - 20")
Spread:
20cm - 30cm (8" - 12")
Quantity:
200 Seeds
Price:
$3.99

Attracts
Butterflies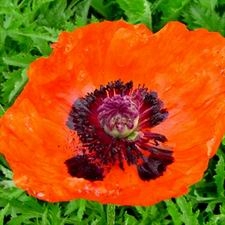 Notes: Spectacular perennial orange blooms on low growing serrated fern-like foliage. Sow seed directly to the garden Spring. Once established these have been known to outlive the gardener. Vibrant colour in late Spring and early summer and it return year after year. Feel free to protect it from winter cold with mulch. It will show its appreciation in blooms.


Instructions: Surface Sow. Seed needs light to germinate. No Cover. This is a perennial poppy that will self-sow easily by sprinkling the seeds out of the heads that dried on the plant. Poppies are early bloomers so by default their roots appreciate being cool. This can be easily achieved with mulch around but not touching the plant.


Habitat: Once established these poppies will grow almost anywhere they have cool roots and well-drained soil.