Type:
Herb
Seed #:
187
Common Name:
Lemon Balm
Latin Name:
Melissa officinalis
Variety:
Herbal Remedy Plant
Colour:
Herb
Temperature:
18C - 22C (64F - 72F) (Zone 5)
Blooms:
June to September
Site:
Part Shade
Height:
40cm - 60cm (16" - 24")
Spread:
30cm - 100cm (12" - 39")
Quantity:
100 Seeds
Price:
$3.99

Attracts
Butterflies
Deer
Resistant
Drought
Tolerant
Scented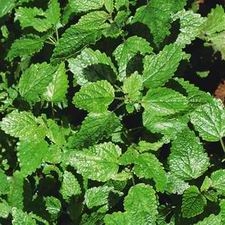 Notes: Lemon-scented flavour make this plant an excellent garnish and a delicious tea for colds. Also effective as a companion plant or bug barrier. When watering the seed that needs light to germinate, it is important that you either use a spray bottle to keep the soil moist or water from the bottom by using a tray and filling the tray with water that allows the soil to soak up the water from the bottom up. Not using one of the 2 ways suggested may push the seed into the soil which will not allow optimal light conditions for proper germination. Also, be sure to sow Lemon Balm in bunches of 3,5 or 7 seeds to create a clumping effect as showing only one seed will only provide one small plant, that will take a longer time to allow for harvest or to create the desired bug barrier effect. Lemon balm has a short rootstock is and the stems are square and branch out at each joint. The leaves are heart-shaped, toothed and emit an amazingly sweet lemon fragrance when bruised. Their distinct lemon taste makes them a perfect choice for tea. Lemon Balms flowers in small loose bunches from June to October.


Instructions: Easy to grow. Surface sowing is all that is required for this tasty herb. Its seed needs light to germinate so no soil cover is required Germination is 10 to 15 days. Sow heavy and thin if looking to make teas. More is always better.