Type:
Perennial
Seed #:
188
Common Name:
Gas Plant
Latin Name:
Dictamnus albus
Variety:
purpureus
Colour:
Pink
Temperature:
13C - 18C (55F - 64F) (Zone 3)
Zone:
3
Blooms:
July October
Site:
Full Sun or Part Shade
Height:
70cm - 90cm (28" - 35")
Spread:
50cm - 60cm (20" - 24")
Seeds per pack:
10
Price:
$4.00

Deer
Resistant
Scented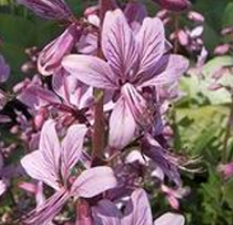 Notes: Early Autumn spikes of fragrant flowers with graceful stamens.


Instructions: Plant 1mm deep. Germinates in 28 to 42 days.


Habitat: Dictumus dislikes being disturbed once planted. As it ages,its production of flowers increases as does the height of the stems. They prefer a moderately fertile, sunny and open spot for best results. Once established these plants are drought tolerant.


History: The plant is commonly known today as the Burning Bush. It contains an essential oil with a lemon-like smell. The essential oil is flammable. The daughter of Swedish botanist Carl Linnaeus is said to have discovered the phenomenon when she ignited the air above the plants at the end of an unusually hot, windless summer day with a matchstick.