Type:
Perennial
Seed #:
189
Common Name:
Prairie Mallow
Latin Name:
Sidalcea malviflora
Variety:
Rose Queen
Colour:
Pink
Temperature:
15C - 18C (59F - 64F) (Zone 10)
Zone:
10
Blooms:
June to August
Site:
Full Sun
Height:
85cm - 100cm (33" - 39")
Spread:
20cm - 30cm (8" - 12")
Quantity:
100 Seeds
Price:
$3.99

Attracts
Butterflies
Great
Cutflower
Scented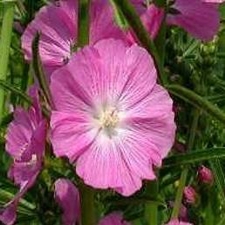 Notes: Perfect for naturalizing in moist landscapers and borders. Mallow enjoys full sun but will tolerate some shade in warmer climates. It's attractively divided, hairy foliage produces tall spikes of pink saucer-shaped blooms, make it a useful cut-flower and filler. Keep soil moist to encourage stronger yield. You may also cut back after 1st flowering to encourage a second bloom period.


Instructions: Sow 1 to 2 mm deep. Germination 15 to 25 days.