Type:
Perennial
Seed #:
190
Common Name:
Clustered Bellflower
Latin Name:
Campanula glomerata
Variety:
Clustered Bellflower
Colour:
Blue
Temperature:
20C - 28C (68F - 82F) (Zone 3)
Zone:
3
Blooms:
June to August
Site:
Full Sun or Part Shade
Height:
80cm - 100cm (31" - 39")
Spread:
1cm - 20cm (0" - 8")
Quantity:
250 Seeds
Price:
$3.99

Attracts
Butterflies
Deer
Resistant
Drought
Tolerant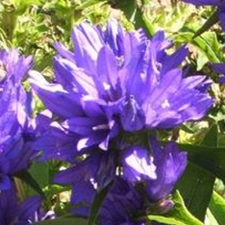 Notes: Strong upright, easy to grow and care for plant that will produce an abundance of flowers in truest blues and mauve shades. A fabulous long lasting addition to any garden. Deer resistant & drought tolerant.


Instructions: Surface sow. Needs light to germinate. 10 to 21 days.