Type:
Perennial
Seed #:
191
Common Name:
Dwarf White Bellflower
Latin Name:
Campanula takesimana
Variety:
Alba
Colour:
White
Temperature:
20C - 28C (68F - 82F) (Zone 5)
Zone:
5
Blooms:
June to August
Site:
Full Sun or Part Shade
Height:
30cm - 35cm (12" - 14")
Spread:
1cm - 15cm (0" - 6")
Seeds per pack:
0
Price:
$0.00

Attracts
Butterflies
Scented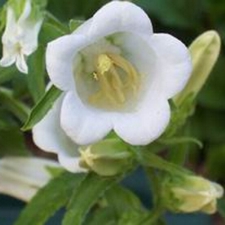 Notes: Very reliable and easy to naturalize. These plants produce a mass of , citrus smelling leaves, white daisy like flowers with yellow centers, on multi branched stems. Fever few has very long history in its medicinal uses, such as dispelling fevers and treating arthritis. Good cut flower filler, beneficial insect attractor and companion plant.


Instructions: Do not cover. Seed needs light to germinate. 10 to 21 days.