Type:
Perennial
Seed #:
192
Common Name:
Columbine Pink
Latin Name:
Aquilegia
Variety:
Nora Barlow
Colour:
Pink & White
Temperature:
21C - 25C (70F - 77F) (Zone 3)
Zone:
3
Blooms:
May to June
Site:
Shade or Part Shade
Height:
30cm - 60cm (12" - 24")
Spread:
2cm - 30cm (1" - 12")
Seeds per pack:
0
Price:
$0.00

Attracts
Butterflies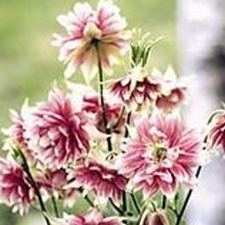 Notes: Great in beds or borders and especially rock gardens. Also grown as an annual in colder weather climates. Picking the bright cheery & elegant flowers prolongs the bloom time. Great for early Spring bouquets.


Instructions: Surface sow or light cover with fine soil.